Pro-Shop
The pro-shop at Tennis Ballarat offers the best range of tennis equipment in our region and features tennis racquets, clothes, shoes and accessories, plus a racquet stringing service. Our pro-shop manager and technician has nealry 40 years' experience in tennis retail and as a tennis professional.
Racquets
We stock a full range of Wilson tennis racquets and other major brands including Babolat and Prince. Our exclusive "demo" program gives customers the opportunity to try a variety of different racquets on court in order to choose the most suitable frame.
Re-stringing service
Racquets are strung on Ballarat's newest digital machine to ensure optimal tension and consistency. We stock a large range of strings including Luxilon, Wilson and Prince. 24-hour turnaround is guaranteed on all restrings.
Merchandise
An excellent selection of clothing and shoes is available including the highest quality products from Wilson and Adidas.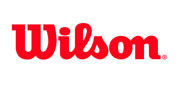 Pro-Shop proudly sponsored by Wilson